Free Lula International Committees join protests against Bolsonaro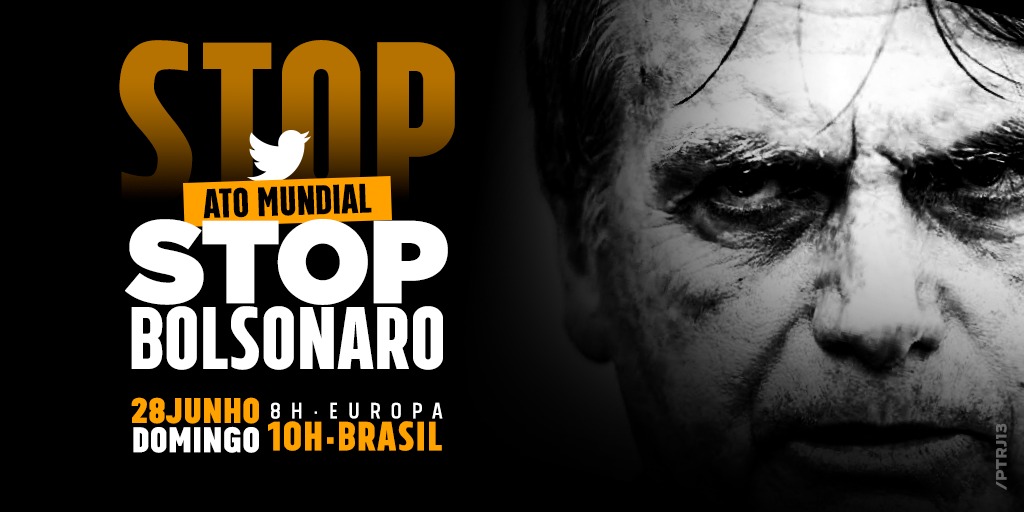 June 27, 2020
Photo: reproduction
Collectives defending former president's Lula da Silva freedom and innocence have joined dozens of other collectives, institutions and organizations taking part in the "Stop Bolsonaro" World Protest this Sunday (28th).
The demonstration, taking place both virtually and in-person in at least 70 cities of 24 different countries around the world, demands the recovery of democracy in Brazil and the revoking of the Bolsonaro-Mourão mandate.
According to the movement's press release, the removal of the current administration is a fundamental step to save lives and get the country back into a path of respect for life, for human rights and peace. "Crises have never stopped us from dreaming of a more just and democratic nation. Brazilian people have shown they are solidary and creative, and will know how to pursue their struggle to build a society that safeguards dignity and peace. Bringing this administration based on hatred and destruction to an end is the first step of this struggle. Brazil cannot wait any longer", the document states.
The Italian and the one of the French "Free Lula" Committees are planning virtual demonstrations from 26th to 28th of June. The Berlin Free Lula Committee will gather in front of the Brandenburg Gate on Sunday, in the German capital.
In the UK, the Free Lula Committee UK and the Free Lula England-Oxford Committee have helped organize the UK and Channel Islands Stop Bolsonaro World Protest, which have already been joined by more than 60 people.
Also, the Libérez Lula – Committee of Solidarity with Lula and for Democracy in Brazil is gathering supporters at Marielle Franco's Garden at the French capital today (27th), and on social media on Sunday (28th). The Austria Free Lula Committee has planned a demonstration in Vienna for tomorrow. Besides these protests, the Defend Democracy in Brazil is joining the protests against racism and LGBTQ phobia to the #StopBolsonaro agenda at the Brazilian Pride Rebellion at the Queer Liberation March in NYC, where the Alerta-NYC and Brado-NY collectives are also organizing a demonstration, at the Gantry Plaza State Park. In Switzerland, the Free Lula Genebra Committee is protesting in front of the Brazilian Consulate in Geneva tomorrow.
More information on the #StopBolsonaro World Protests can be found at the movement's official website, stopbolsonaro.com and their social medias @stopbolsonaro.
Revision: Suzana Gava.